[vc_row][vc_column][vc_column_text]Opto Precision Pte. Ltd., an ISO 9001-2015 certified company, is one of the best precision optics manufacturing companies in South East Asia. Established since 2004,  Opto Precision Core is in Precision Optical Thin Film Coating. We provide products and services our to customers in the areas of Optical Components, Advanced Coating Services, and Optics Assembly.
Being at the forefront of technology, Opto Precision is equipped with several state-of-the-art German-made machines and we are able to manufacture precision optics that fulfills our customers' demanding specifications. In addition, we are very proud that Opto Precision is one of the few companies in the world that has the expertise to work with Polymer Optics.
Opto Precision is strategically located in Singapore and over the years, we have built up an excellent track record in providing our worldwide customers with:
Consistent and Reliable High-Quality Products
Customer service Excellence
Customization for your solutions
Fast turnaround time at Competitive Pricing
To ensure our continued success, Opto Precision practices lean manufacturing and streamline operations that reduce cost and improve efficiency. On top of this, we also strive to be a green and environmentally responsible company. We are deeply committed to work towards sustainable manufacturing practices and all products produced in Opto Precision's facility are RoHS compliant.
Above all, we hope to provide value to our clients and associates and be the one-stop solution to the optical thin film industry.[/vc_column_text][/vc_column][/vc_row]
Opto Precision is committed to providing the highest quality of products and services. We are ISO 9001:2015 certified, and we utilize many Best Practice Quality Tools and incorporate them where it can bring value. Our Quality Identity is to attain satisfaction throughout our value network, and be an integral part to your Optics Solutions.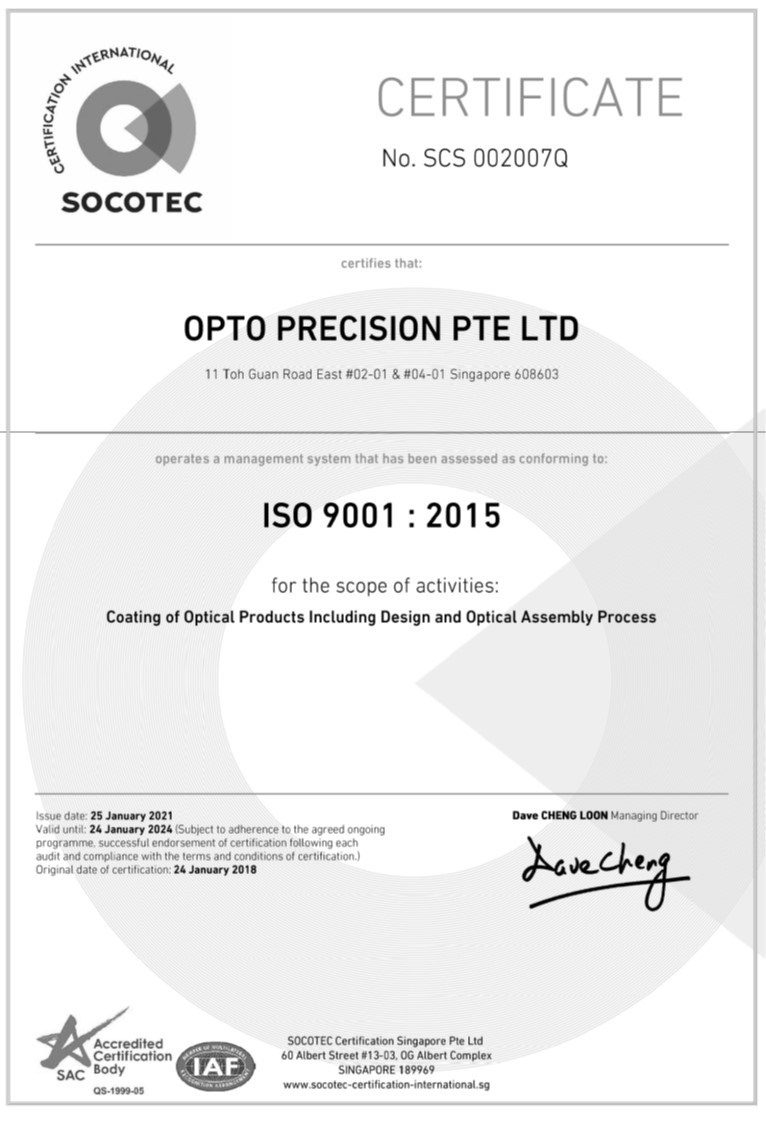 Our Coating Facility is housed within a 10K Class Clean room and utilizes laminar flow bench for preparation and inspection. After service, Overhaul and cleaning of our Leybold Coating Machines are all within the building, making maintenance very efficient and fast.
We are constantly looking out for talented individuals who would like to join our team! We do not regularly have job postings though we would definitely want to hear from you. Do not hesitate to email us your inquires on possible future careers with us. We will from time to time post out Job postings on this site, so do keep a look out.
Email us at recruitment@opto.com.sg